A message from the Dean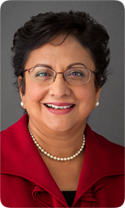 As I reflect upon the past year, a common theme became apparent. Fiscal year 2012 was one marked by building bridges.
From working with University leadership to grow the size of our faculty to meeting with business leaders and alumni to crowdsource ideas for the future, the Carlson School has done an exemplary job of building community in FY12.
Outside indicators of the quality of our Undergraduate and MBA Programs and our faculty's research have also reached new heights during the past year and we truly have become the Northern Star of business schools. With a secure foundation and engaged stakeholders the Carlson School stands to shine even more brightly in the years to come.
Sincerely,
Sri Zaheer
Dean